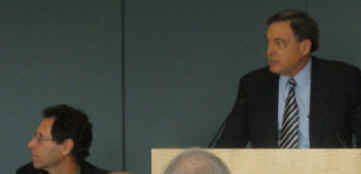 FERC Chair Jon Wellinghoff addresses
October 30, 2009 Roundtable
Dr. Jonathan Raab serves as the moderator of the Roundtable and is responsible for developing the agenda, securing speakers, and facilitating the meetings. The Roundtable is hosted by the law firm Foley Hoag LLP and funded by participating sponsors.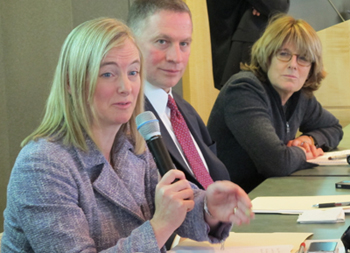 (L to R) Marcy Reed, MA President of NGRID, Bill Quinlan, Sr. VP at NU, and Barbara Kates-Garnick, Energy Undersecretary, MA EEA
Here is the most recent agenda for the Roundtable.  If you missed any meetings, you can catch up by reviewing the previous month (or any past month) by using the selections below (by date, topic or speaker).
The Roundtable archives date back to January 1999. Many of the speakers' presentations (beginning in December 2000) can be downloaded for your review.
Born out of electric industry restructuring, the Restructuring Roundtable meets six times per year to discuss current topics related to revolutionary changes in the electric power industry in Massachusetts and throughout New England. The Roundtable has been meeting since 1995. Attendance at the Roundtable meetings averages over 175, with attendees representing a broad cross-section of stakeholders.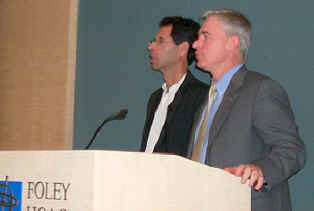 ISO New England CEO Gordon van Welie and
Roundtable Moderator Jonathan Raab

The Roundtables are held at Foley Hoag LLP in downtown Boston. Click here for directions
Click here for the schedule.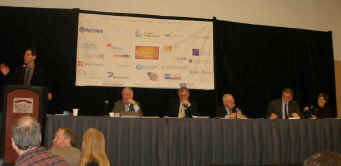 Restructuring Roundtable 100th Anniversary Gala Panel