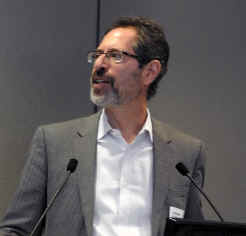 Dr. Raab has designed and served as lead facilitator/mediator on hundreds of cutting-edge energy, climate, and environmental stakeholder processes in the U.S. and Canada. Some of his major cases include the Regional Greenhouse Gas Initiative (RGGI) and the New England Demand Response Initiative (NEDRI); renewable portfolio standards (RPS), distributed generation interconnection standards, and energy efficiency collaboratives in multiple states; greenhouse gas planning processes for the city of Boston, the state of Maine and the state of Rhode Island (which received EPAís Climate Protection Award in 2005); Grid Modernization processes in Massachusetts, New Hampshire and Rhode Island; Cape Wind; Energy Facility Siting in New Hampshire; Vermontís Energy Future; Albertaís Market Participant Rules; and the Energy Plan for Tennessee.
He has also run stakeholder processes for U.S. DOE, U.S Fish & Wildlife, and U.S. EPA, and has done work on stakeholder engagement in Germany (transmission) and Japan (nuclear). Dr. Raab has also performed detailed assessments of a wide array of stakeholder processes, including PJMís stakeholder process and the Massachusetts Energy Efficiency Advisory Council.
Dr. Raab has run the New England Electricity Restructuring Roundtable since 1995, and the Energy Policy Roundtable in the PJM Footprint since 2016. He is on the mediation panels for the PJM Power Pool and the Mid-Continent Area Power Pool, and on the dispute resolution rosters of the U.S. EPA, the U.S. Institute for Environmental Conflict Resolution, and the Commonwealth of Massachusetts. He is the author of Using Consensus Building to Improve Utility Regulation (ACEEE: foreword by Susan Tierney)
Prior to establishing Raab Associates, Dr. Raab was the Assistant Director of the Electric Power Division at the Massachusetts Department of Public Utilities. He holds a Ph.D. from the Massachusetts Institute of Technology (Energy and Environmental Policy, and Resource Economics), an M.S. from Stanford University's Civil Engineering Department (Infrastructure Planning and Management), and an A.B. (distinction) in Social Sciences, also from Stanford. Dr. Raab has taught courses at the University of Oregon, Stanford, and UMass (Boston). He designed and taught the Energy Policy for a Sustainable Future course at MIT from 2006 to 2011.


Susan Rivo, Associate, Raab Associates. Since 2004, Susan has provided project management and support services on all Raab Associates' stakeholder engagement projects. This includes scheduling; interfacing with stakeholders; document management; managing project websites; developing PowerPoints, agendas and graphics; conducting research as needed; and copy-editing for all communications and publications, including final reports.
Susan handles the event planning for the New England Electricity Restructuring and PJM Footprint Roundtables, and for all stakeholder/work group meetings utilizing event management platforms such as Eventbrite and Constant Contact. She also secures meeting venues, and interfaces with speakers, registrants, caterers, building security, print shops, video and web streaming companies.
In addition, Susan is a professional copy editor and documentary filmmaker. She holds a BA in Peace and Conflict Studies from UC Berkeley and an MFA in film production from San Francisco State University.